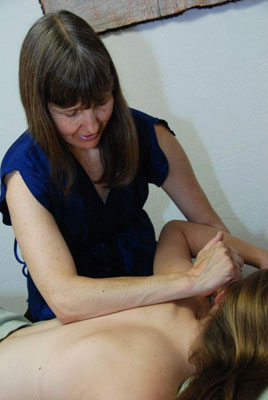 Donna's practice is a small owner-operated micro-enterprise with a seventeen-year history of excellent, reliable service. During the last nine years, advanced massage therapist, Donna Call, has expanded her treatment skills through a condensed six-year study of Traditional Chinese Medicine (TCM). Now licensed in TCM, her bodywork sessions offer a masterful blend of eastern and western massage modalities, as well as a comprehensive health evaluation with recommendations for dietary, herbal and lifestyle adaptations to enhance your well-being. For your added convenience her treatments are offered either at your own location (inn, vacation rental, or residence), or her coastal offices in Fort Bragg and Gualala.
If you choose Donna's "spa-to-go" sessions, as opposed to visiting one of her conveniently located offices, you can ease into your session in the privacy of your own inn room or vacation home. Relax afterward rather than having to drive.
A typical treatment delightfully blends Swedish and deep-tissue massage, five elements acupressure, tui na, shiatsu, and energetic balancing techniques to create harmony of body, mind and spirit. Pressure is always variable based on your preferred style. Lie on a roomy spa—portable heated massage table covered with cozy flannels and blankets— and give way to a refreshing rest.
Reserve time for yourself and your special someone... you both deserve it.
Curious about acupuncture? Donna offers unique massage and acupuncture combinations. Visit Donna's TCM site, to learn more about how acupuncture and Chinese Medicine can help you.
Fall/Winter Sampler Special in my spa room at Saint Orres in Anchor Bay.
Indulge in a lengthy spa session, and enjoy as many add-ons of your choice to your massage session. Choose from hot rocks, aromatherapy and a sea salt scrub, dry brush massage and Chinese gua sha massage, acupuncture, herbal facial massage.
Just for You:
Two hours: $185
Three hours: $265
60 minute massage for one, including aromatherapy and hot rocks at no additional fee: $110
Couples consecutive 60 minute massages: $200
Acupuncture and Massage combination for one, 90 minutes: $165
Afterwards, enjoy a shower, sauna and hot tub for these all inclusive prices. Payment by cash, check or credit card.
Fort Bragg location:
18300 Old Coast Highway, behind Shoreline Vacations Rentals/ReMax Real Estate
View Larger Map
Anchor Bay/Gualala location:
Donna's office is in the Creekside area of St. Orres, 36601 South Highway 1, north of Gualala
View Larger Map
NATIONALLY CERTIFIED IN THERAPEUTIC MASSAGE & BODYWORK
MEMBER, AMERICAN MASSAGE THERAPY ASSOCIATION
nationally certified from 1995-2010
Over 30 years experience as a certified massage therapist; serving happy customers on the Mendocino Coast since 1995!